[3 TOP OFFERS] For short-term rental in 2021
09/08/2021
2021-08-16 18:55
Where do you like to go on vacation? To the sea or to the mountains? Where do you prefer to live? In a hotel, apartment or villa? You don't have to answer, much less choose. Check out the top 3 offers from our portfolio of short-term rental properties on the Costa del Sol.
---
Sea or mountains?
Why choose when you can have both? On the Costa del Sol, the mountains look at the sea. The very name "Marbella" coming from pre-Romanesque times, was created from the combination of the words MA + AR = MAR, which means "a lot of water" and the word BILA / BILLA meaning "mountain". If you look at the pictures of Marbella taken from the bird's eye view or from the sea, you will see just this: the mountain and a lot of water.
Finca Vista – a lot of water seen from above
"Vista" is a Spanish word for "the view." And this is the perfect name for this beautiful house, because the panoramic view of the sea and Marbella welcomes us in front of the house and then accompanies us almost everywhere.
The house is built on two levels, completely independent of each other and with separate entrances. On level 0 there is a living room with a fireplace and a modern, fully equipped kitchen, 3 bedrooms with bathrooms, terraces, comfortable jacuzzi, and a parking lot for 2 cars.
Below you will find another 3 bedrooms, 2 bathrooms, another open, modern kitchen and a living room with a glass, fully sliding wall, overlooking the infinity pool. The pool is divided into a swimming area and a special, secured area for small children.
It is an ideal house for families with children, golfers and people who are looking for peace and tranquility. The division into independent apartments on 2 levels guarantees great privacy. The residents of the house, if they wish, can meet only by the pool. Each level is also equipped with a gas grill.
Finca Vista is an Andalusian house after major reconstruction. The owners of the villa rearranged the rooms, let plenty of light into the house, furnished it in a modern, Scandinavian style and took care of every detail – while maintaining the character and Andalusian soul of the house.
An oasis of peace, situated in the hills surrounding Marbella and only a 10-minute drive to the city center and the beach. We have more such oases to offer – not only in Marbella.
Get to know this unique house in Marbella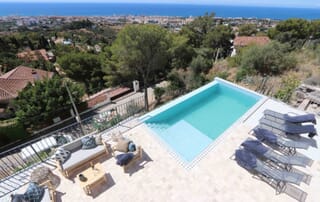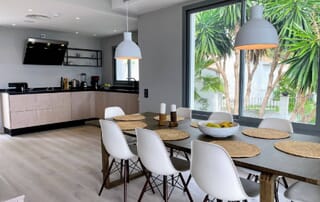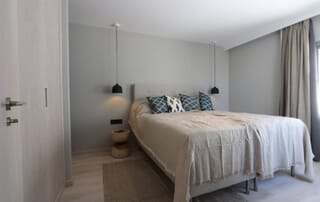 Meet Villa Elegante in Benalmadena
A breathtaking view of the Mediterranean Sea, a wonderful interior of a luxury villa, peace and silence and all the attractions of the Costa del Sol within a short drive – Villa Elegante welcomes you!
By entering Villa Elegante, you enter the world of luxury and good taste. The villa is situated on a hill a few kilometers from Benalmadena Pueblo – a picturesque "pueblo blanco" with lots of bars and restaurants hidden in narrow, flowery streets.
Villa Elegante was built, furnished and tastefully decorated by professional interior designers. Here you will find everything you need to spend time in a luxurious atmosphere: a beautiful, spacious living room, cozy bedrooms, elegant bathrooms, a sauna and a kitchen equipped with everything you need to prepare a tasty meal. There is also a well-kept swimming pool, 13 m long and 5 m wide, with a sun terrace with 8 sun loungers. The spacious wardrobes on the terrace hide lots of colorful toys that can be enjoyed by kids who come here on vacation.
If you want to rest in a shaded area, you can use the hammock surrounded by yew trees and bamboo. Along the house is a terrace with armchairs, sofas and a dining table. The terrace offers panoramic sea views and fantastic sun sets.
Find out more about this amazing villa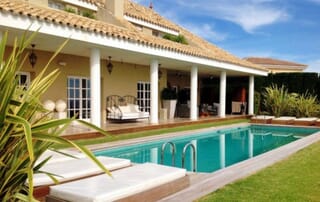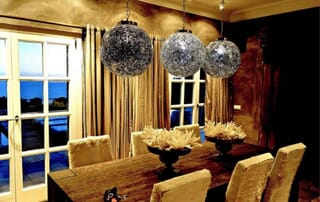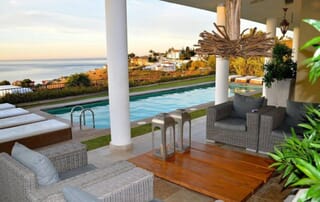 If during your vacation, you want to not only see the sea, but also hear and feel it, we invite you to Mi Capricho in Mijas
The Mi Capricho estate was built in 2002 in a beautiful location in Calahonda, Mijas Costa. The estate is situated on the shore of the Mediterranean Sea and surrounded by pine trees. Mi Capricho is a popular beach complex with direct access to the newly built seafront promenade, providing access to many sandy beaches.
In Mi Capricho we have 4 apartments for rent. One of them is a cozy first line ground floor offering a fantastic view of the pool and the sea. This beautiful two-bedroom apartment with a sun terrace offers direct access to the beach, free WIFI, international TV, air conditioning, underground parking and free parking for guests.
Explore this cozy apartment in Mi Capricho in Mijas
The Mi Capricho estate has two large swimming pools for adults and two swimming pools for children. During the season, a lifeguard watches over the safety of bathers. There is a bar by the pool, and next to the estate there is a fish restaurant with the same name as the estate. Near Mi Capricho you will find restaurants and bars offering cuisines from all over the world, and several shops. If you don't feel like exploring Andalusia during this vacation and you only wish to recharge your batteries while lying by the pool or on the beach, you can forget about a car during your vacation.
Mi Capricho means "my whim", and holidays are the best time for whims ☺.