[Top 5] Offers for holiday rentals on the Costa del Sol in 2020
21/02/2020
2020-02-21 10:43
Do you already have plans for summer 2020? No? Maybe a vacation in Spain, and exactly on the Costa del Sol?
---
Dla tych, którzy wybierają się na wakacyjny wyjazd na południe Hiszpanii, przygotowaliśmy 5 niepowtarzalnych ofert nieruchomości, które idealnie nadają się na wynajęcie i spędzenie w nich urlopu na Costa del Sol. Każda z nich jest inna, każda skierowana jest do ciut innego urlopowicza i każda ma w sobie coś, co czyni ją wyjątkową.
Ideal house for families with children (La Cala de Mijas, 20 m from the sea).
The 3 most important things to know about this home:
Ideal for families with children.
It is located by the beach.
Has 2 swimming pools.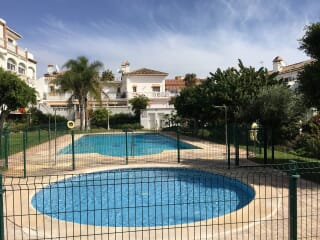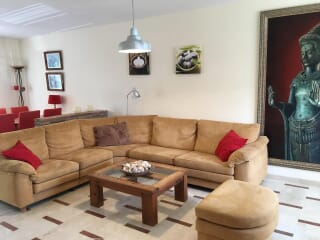 Families are happy to rent this house from us. It comfortably accommodate 6 people; an additional advantage of this place is a large terrace with access to the garden and the swimming pool. Two swimming pools, one "olympic" for adults and the other one, smaller, for children. Both are situated in a beautiful garden, where you can put up sunbeds (available for guests) and enjoy the sun. You can also go to the beach, which in La Cala is wide and without screens ☺ but with good "chiringuito" restaurants serving delicious, fresh fish and good wine.
Find out more about this home for rent in Mijas
Marbella Penthouse - for those who like luxury, beach and nightlife
The 3 most important things to know about this penthouse are:
It has 3 bedrooms.
It is located in the center of luxury - Puerto Banus.
It is perfect for 6 people.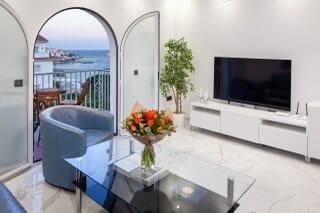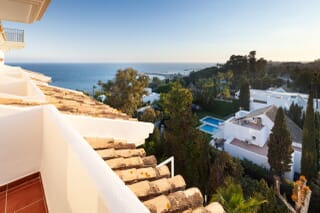 Lovers of Puerto Banus, luxury, beach and night life will love this penthouse. 3 bedrooms comfortably accommodate 6 people, 2 levels provide privacy, while the terrace and balconies overlook the sea and Gibraltar. The estate is guarded, has a direct exit to the beach and of course a swimming pool. Puerto Banus does not need to be introduced to anyone, from May to the end of September it is Mecca for lovers of luxury, sun and parties.
Get to know this penthouse for rent in Puerto Banus
Apartment for rent in Marbella - ideal for a family of 4
The 3 most important things to know about this apartment for rent in Marbella:
It has 2 bedrooms with 2 bathrooms.
It is located 200 m from the beach.
It is located near golf courses.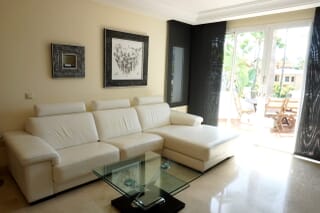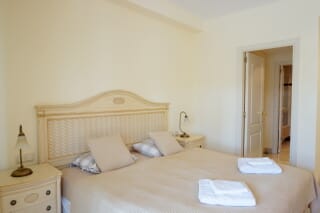 200 m from the beach, walking distance to Puerto, but also to quiet San Pedro, with lots of restaurants, bars and attractions for children. This elegant apartment has 2 spacious bedrooms with bathrooms and a comfortable living room with a terrace overlooking the pool and a fully equipped kitchen. It's perfect for people who like to be close to civilization, but are also looking for peace and tranquility.
Learn more about this apartment
Villa Finca Vista in Marbella, meaning peace, quiet and beautiful views
The 3 most important things to know about this villa:
It can accommodate up to 12 people.
It offers a beautiful and panoramic view of the sea and Marbella.
It has 6 bedrooms and 5 bathrooms.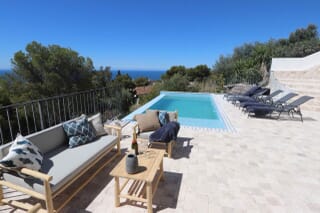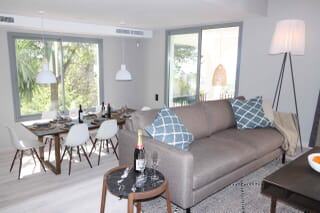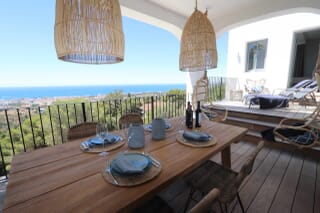 This villa is a fantastic place for a group of friends or a larger family. It can comfortably accommodate 12 people, and because it is divided into 2 independent apartments on 2 levels, residents – if they want – can basically only meet around the pool. Absolute privacy, peace, and this fantastic view... And all this is less than 10 minutes drive to the center of Marbella and the beach
Read more about this beautiful villa for rent in Marbella
A flat in the Mi Capricho estate for those who love sunbathing
The 3 most important things to know about this apartment:
It is located next to the beach.
It has 2 bedrooms.
Has a garage.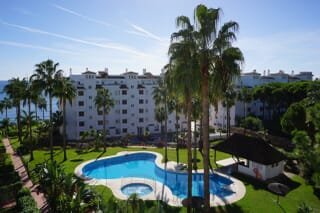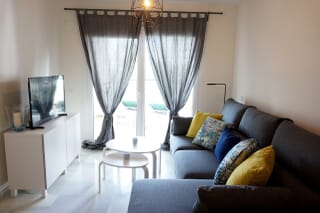 The Mi Capricho estate, where we have got 3 similar apartments for rent, is located right on the beach in Calahonda. Each of the apartments has 2 bedrooms, in addition 2 of them have sofa beds in the living room, so they can accommodate 4, 5 and 6 people respectively. It's a nice solution for larger groups, because the guests are together, but a little apart and there is a chance that they will not get tired of each other's company. Instead, they will be happy to meet by one of the pools or go out to the beach and for a walk, and then sit in a good "chiringuito" to eat something tasty and drink wine.
Read more about this unique apartment for rent in Mijas
These are our 5 (or basically 7) proposals for summer 2020. If you are wondering if Costa del Sol and Andalusia are a good choice for holiday, the answer is: "Yes, they are". You will not get bored here. Search our blog, you will find there an article about tourist attractions of this region. Welcome to Costa del Sol.